Sep 28, 2015

8 Questions with: Wooden Wave

I've met some pretty incredible people through the various POW! WOW! events I've attended and been involved with. During POW! WOW! Long Beach, I was lucky enough to meet Matt and Roxy Ortiz, aka Wooden Wave. The creative couple are part of the POW! WOW! family, being artists based in Lana Lane, in the heart of Kaka'ako, where the annual mural festival takes place. They met in a college painting course and have been painting together for 9 years, participating in POW! WOW! three times to boot. This year, last minute summer road trip plans through Southern California for the two cemented right in time for them to visit us during POW! WOW! Long Beach. It was so nice have more of the POW! WOW! ohana in town for the event, they definitely brought some good vibes and aloha spirit with them, which was great! Now you can get to know them a little bit better too. You can check out photos from Matt & Roxy's summer road trip adventure here and you can follow Wooden Wave on Instagram and Facebook, and Twitter for more of their amazing work.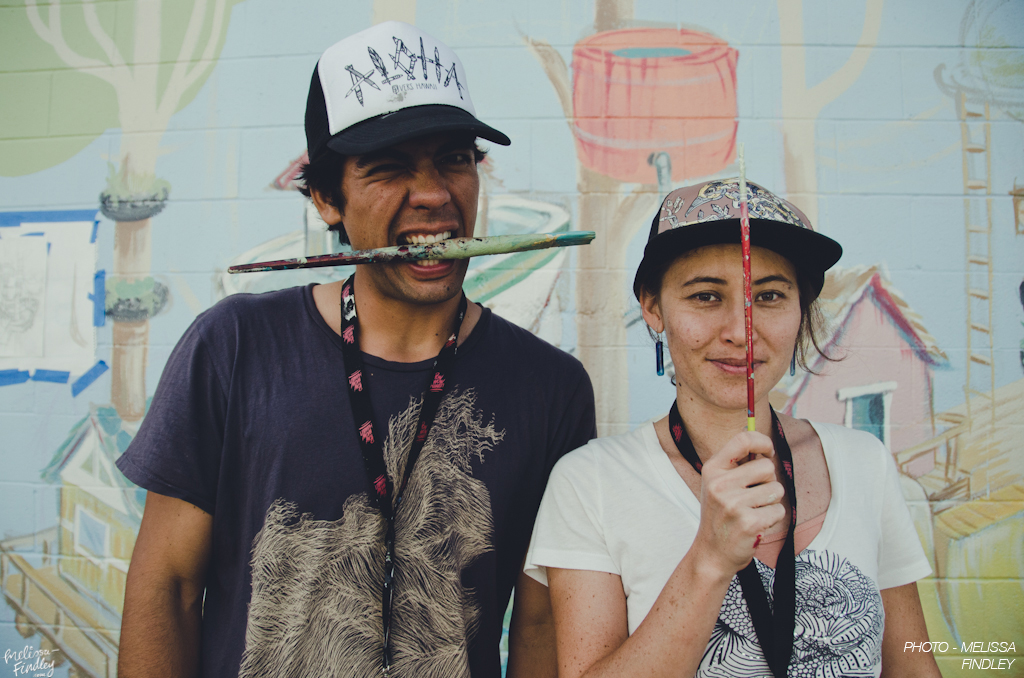 What are you currently working on?
We're in the midst of planning a mural for a commission here in Honolulu and working on a T-shirt design and print series for a children's apparel company called Big Bad Wolf. The image is a treehouse in the shape of a wolf's head, featuring solar panels, a water catchment system, aquaponics, a tire swing and a half pipe skate ramp.
How would you describe your job?
We're a husband and wife art duo. Matt's specialty is drawing so he usually sketches out ideas in a rough thumbnail and we keep revising the image together until the drawing is ready to be finalized. Matt used to do graphic design for an architectural firm in Honolulu so he loves drawing structures in perspective.
I really enjoy picking out color schemes, mixing paint, and managing the overall project direction. Our differing strengths makes us effective as collaborators. When the final image is laid out we are both happy to pick up our brushes and paint it together.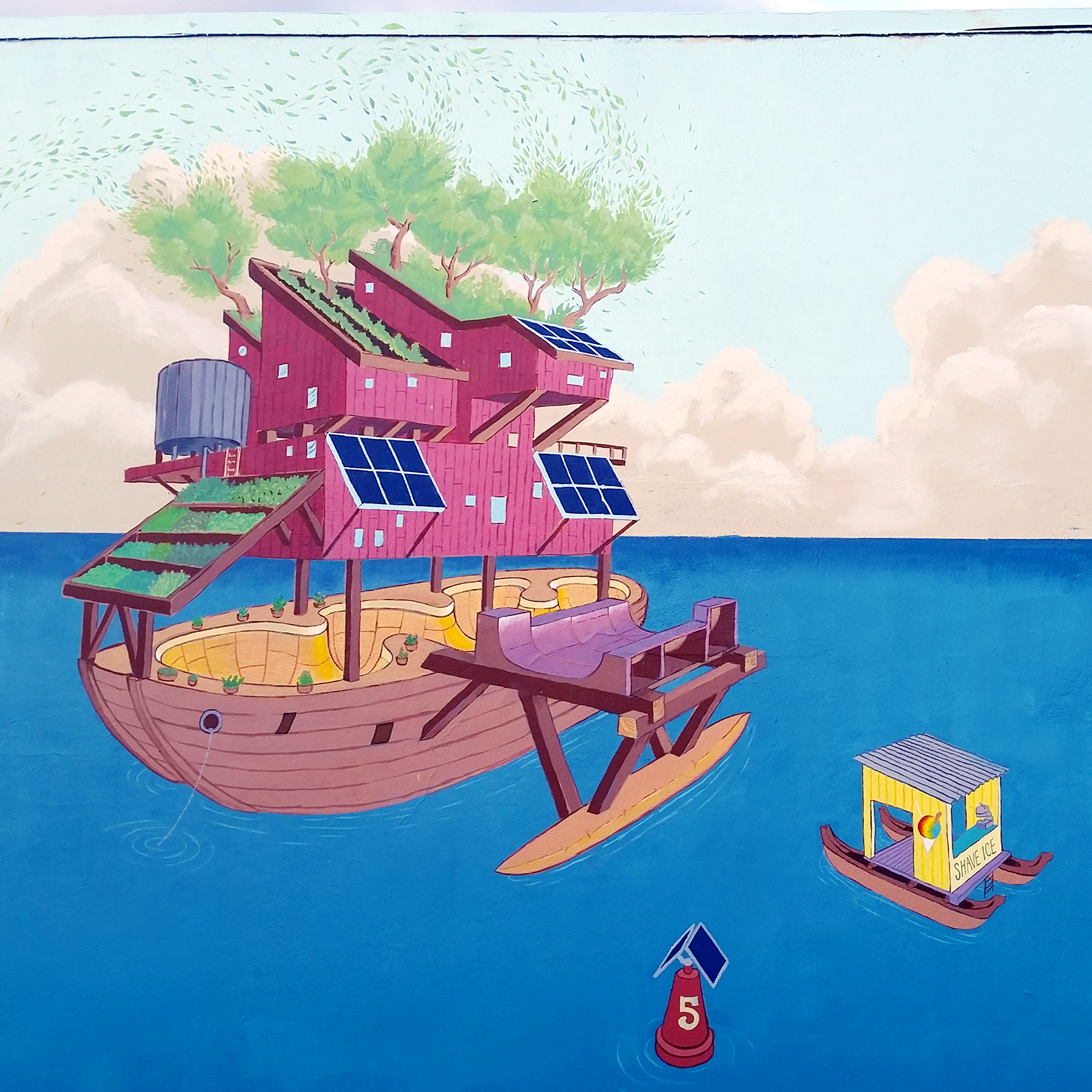 What does your average work day look like?
Like many, Matt's day starts with coffee. I stick to green smoothies. Over breakfast we plan out our project goals for the day. Our art studio is inside of a Co-op warehouse called Lana Lane Studios. It's an eight-minute drive from our apartment and sits in Honolulu's mural district. Inside the studio Matt and I keep separate work stations where, during any given day, we might be sketching, painting, working digitally on a scanned image, or tracing a rough sketch on the light table. We spend more time in our studio than at home so it was important for us to make the place both comfortable and work conducive. We keep the studio well stocked; surfboards hang from the ceiling, skateboards lean against walls, and flat files keep sheets of paper and art supplies are in every drawer. Our studio is across the street from some of our favorite south shore surf spots. Most of the artists in Lana Lane Studios are surfers as well, so when the waves are good, we take a break from our projects to play in the ocean. On a good day we'll end it by having dinner outside on our patio. When deadlines are close, we both work late into the night.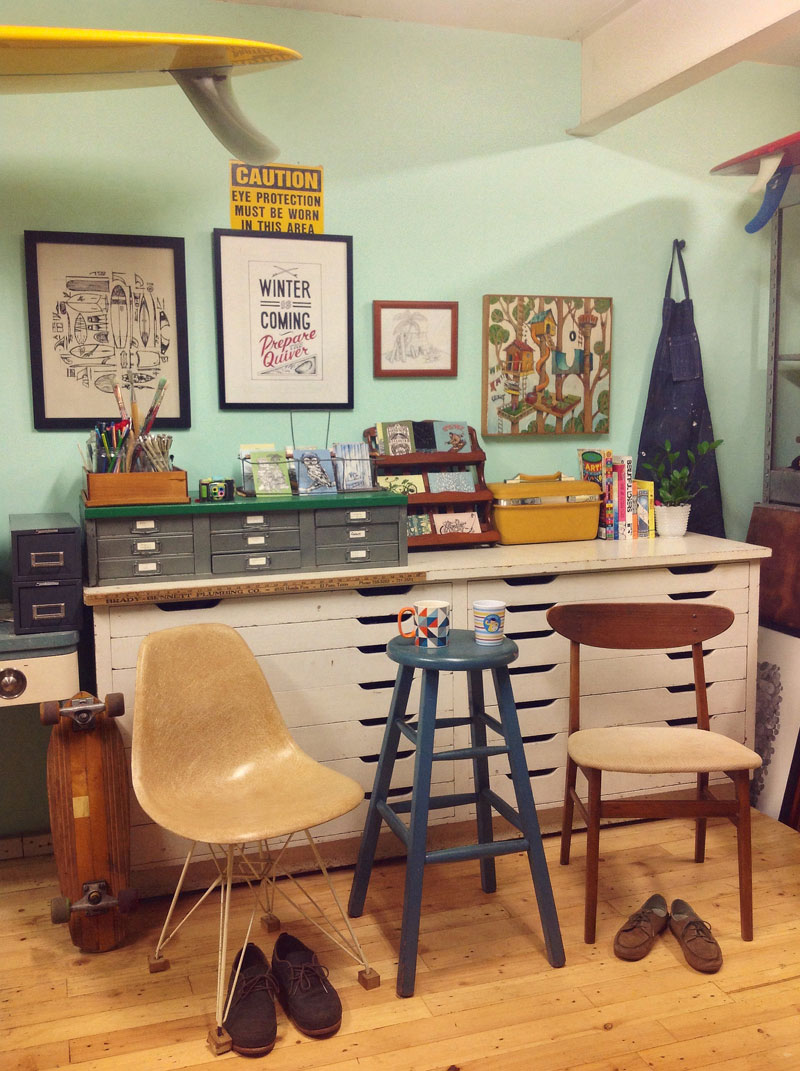 What's the best thing about living and working in Hawaii?
Both of us were born and raised in Hawaii. Matt grew up on Oahu's North Shore and I'm from Lahaina, Maui. Growing up in Hawaii molded us into people who love and appreciate the ocean and nature in general. It's simultaneously our greatest inspiration and our biggest distraction. We feel so fortunate to call the ocean our playground and Hawaii our home.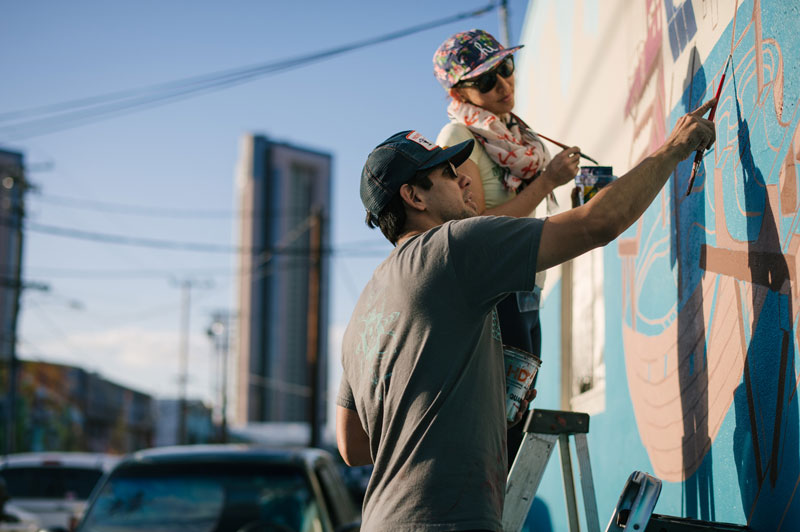 Where do you find inspiration?
A large part of our work is aimed at rekindling that creative feeling many of us had when we were kids. Matt and I are part of a generation of people who grew up enamored with movies like Hook and books like Calvin and Hobbes. We hope that the free spirited nature of those childhood influences continues on in our work today. And while we are keen on keeping our art whimsical and lighthearted, we are also aware that environmental issues facing us today are very real. Acknowledging that fact, we find a lot of inspiration in the growing renewable energy and urban agriculture movements. We believe in the power of positive resourcefulness and hope that our work is, in some small part, adding to that momentum. For us, the treehouses we paint represent the notion of self-sustaining adventure.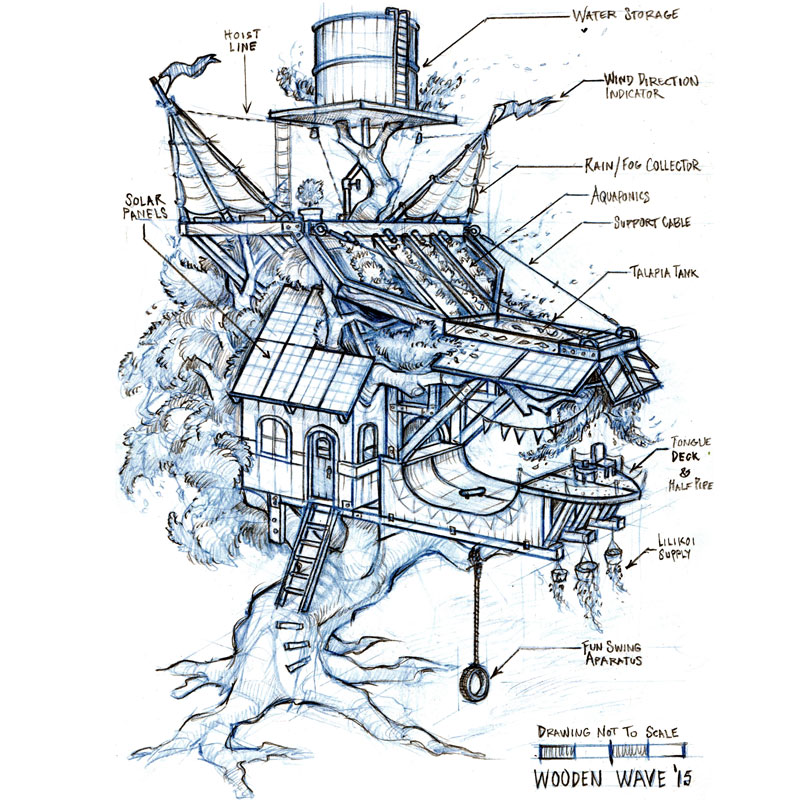 As kids, what did you both want to be when you grew up?
We both were fortunate to have grown up in loving and supportive households that encouraged our creative ambitions. Matt went through many aspirational phases which included wanting to become a Forest Ranger in Alaska, a Fisherman in Hawaii, and Bill Nye the Science Guy. I've always loved animals, so I wanted to be a veterinarian, but I was also allergic to cats. Luckily, fate intervened on both of our behalfs – and we are stoked to be artists instead!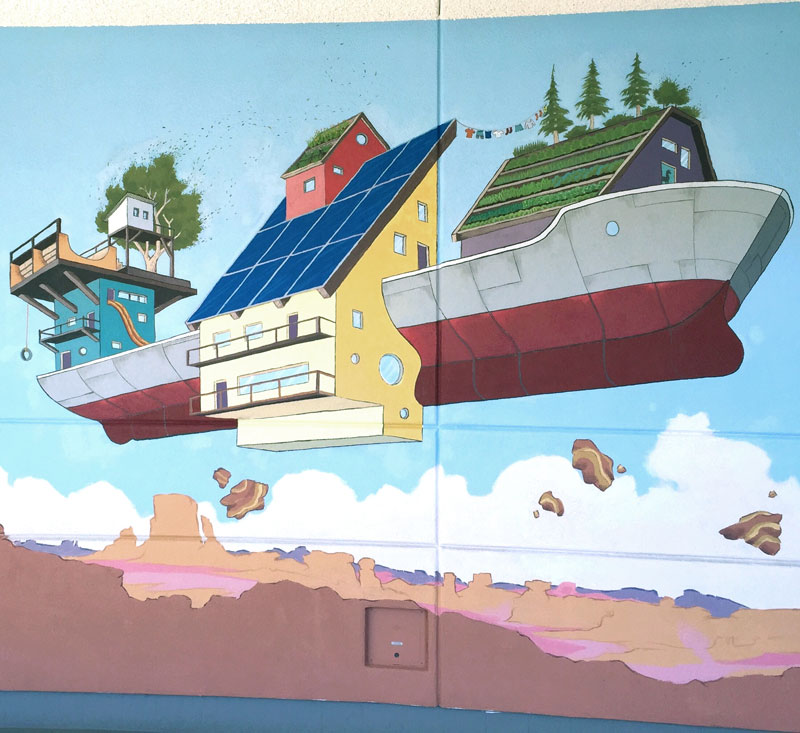 What are you reading at the moment?
Matt: The Lacuna by Barbara Kingsolver
Roxy: Yes Please, Amy Poehler's biography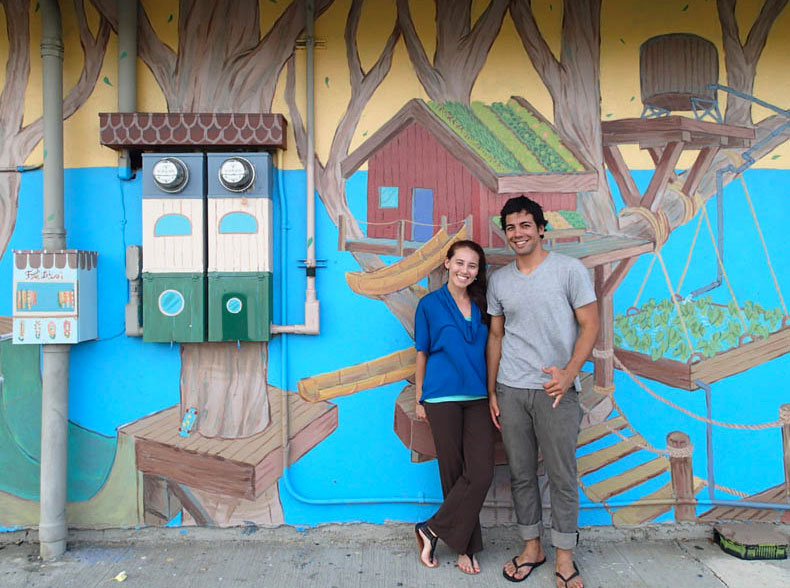 What's your favorite post-work destination?
For Matt and I, it's important that we make time to enjoy the ocean. Whether that means going for a mellow swim to cool down, or taking our boards out for a quick sunset surf, washing the day off in the water is the best way to reset our minds and spend time together outside of work.